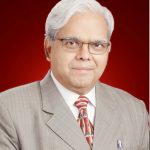 DR. M. L. AGRAWAL MD (Psychiatry)
Senior Consultant, Agrawal Neuro Psychiatry Centre, Kota (Raj.)   
President – Hope Society, Kota, Past PRESIDENT Association of INDUSTRIAL PSYCHIATRY OF INDIA
Dr M.L. Agrawal  is founder member of ISTD Kota Chapter. He organised National Conference on " Mental  Health at Work Place" with ISTD Kota Chapter on 8th Oct. 2017, therefore Mental Health is now  included by
ISTD at national Level. His contribution to ISTD by organising numbers
of stress management workshop in Industry Like- Chambal Fertilizer-Kota, BSNL, DCM etc. He  always spare time for the ISTD programme in-spite of his busy schedule.
Born at Village Pritampuri, Dist. Sikar (Rajasthan) He has taken education in three states Rajasthan, Madhya Pradesh, (Bhopal) & Punjab (Patiala) MBBS in dec. 1968 from SMS Medical College, Jaipur.
MD Psychiatry 1978 from Govt. Medical College, Patiala (Punjab) Served Rajasthan State Govt. from Jan 1970 to Sep. 1999 on different Posts. Taken volunteer retirement from the post of Senior Specialist & Head Department of Psychiatry, MBS Hospital & Govt. Medical College, Kota, also served as a Assistant professor in RNT Medical College, Udaipur & JLN Medical College, Ajmer. Guide for DNB, National Board of  Examination New Delhi. His special interest is in community psychiatry for that work
Received Sir RC HUNTER Award of Excellence 2005 in HONGKONG & 2007 in ATHENS  (GREES) (Only person received twice in world) from World Federation for Mental Health, USA. He also Honoured by National Pulse Polio Community for his contribution in Mass Immunization.
Received International Fellowship for his contribution in the field of psychiatry by American Psychiatry Association in convocation held at Torrento, Canada. Also received National Award by AKHIL BHARTIY AGRAWAL SAMMELAN  in Bhind Murena for the prevention of Drug Abuse & Mental Health Promotion. Aruna-Madan Award for Mental Health Promotion by Community  Approach in Industry by Association of Industrial Psychiatry of India in 16th National Conference of Industrial Psychiatry of India held at Bhopal (Madhya Pradesh) NOV. 2014 Gaytri- GOPAL award (HIGHEST AWARD OF THE  ASSOCIATION) by  Association of Industrial Psychiatry of India IN THE 17thANNUAL CONFERENCE ORGANISED AT MUMBAI IN NOV. 2015 PUBLIC HONOR BY GIVING "JIYO DIL SE AWARD 15-16 "FOR THE STATE OF RAJASTHAN (COMMAN MAN EXTRA ORDINARY  WORK) NATIONAL PROGRAMME ORGANISED AT CHANDIGARH by MY FM At State Level received "THANKS BEDGE" FOR LONG TERM SERVICE to Rajasthan RAJYA BHARAT SCOUT & GUIDS & served as Mandal Pradhan (Divisional President) for 9 year.
Felicitation (1st Oct. 2015) by Social Justice & Human Rights Department Govt. of Rajasthan at Bhagat Auditorium OTS, Jaipur On 1st Oct. 2015 on the occasions of International Senior Citizens Day. He  worked with his team  for the welfare of Senior Citizens, Suicide Prevention & Mental Health Promotion to grass root. Bhamashah Award by Govt. of Rajsathan for construction of School Building at his native place Pitampuri (Sikar).
At District Level received Gold Medal & Honour on Republic Day for contribution of ABHUTPURVA CHIKITSA SEVA on 26th Jan 2006 & 26th Jan 2017 as a President of Hope Society by Govt. of Rajasthan.
In Rotary received "THAN CHAND GOLD MEDAL" from Rotary Dist. 305 Awards for Best Individual Community Services, Best Rotarian, Twice by Rotary Club Kota North, Major Donor Level 2 by Rotary Foundation, Best President Award, out Standing Assistant Governor by Rotary Dist. 3050, Life time Achievement Awards by Rotary club Kota north and IMA Kota, apart from this number of other awards honour & gold medals by NGO's of Kota & Indian Medical Association (IMA), Kota.
More than 30 publication in national & International Journals on his credit. He is guide of DNB by National Board of Examination.
Presently he is President Hope Society, Kota running 24X7 helpline for crisis intervention & suicide Prevention (Helped more than 6000 students & citizens) & pattern and Advisor  Pensioner Samaj Kota.
His contribution to Hindi – on his request World Federation Mental Health USA included Hindi in World Mental Day promotion material. Every year he translate World Mental Day promotion material English to Hindi to distribute globally free of cost for last 9 years.
He is married to Dr. Aruna Agrawal Senior most Gynaecologist of Kota and Two lovely children and three grand children.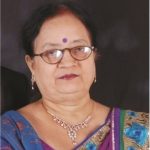 Dr Aruna Agrawal MS (Gyne.)
Senior Gynecologist  Director :- Agrawal Medical & Research Centre, Kota, (Rajasthan) received World Level – Sir RC HUNTER Award of Excellence 2005 in Hongkong& 2007 in Athens (Greece) (Only one person to receive it twice in the world)
Now working as Director, R L Agrawal Memorial Hospital Pvt Ltd, Talwandi, Kota
Join as Civil Assistant Surgeon Govt. of Rajasthan.
Passed MS Gynae&Obst. From SMSMedicalCollege, Jaipur & Voluntary Retired as SeniorSpecialistJ.K.LonHospital, Kota (in 1994)
Trained in Leproscopic Surgery from Germany.
Founder secretary and past president of Kota Obstetric and Gynecological Society
President of Indian Medical Association, Kota branch
Has been past president of Rotary Club Round town, Kota and Innerwheel club Kota North. And during her tenure both clubs apart from many other awards received BEST CLUB AWARD in district 3050 and district 305.
Also worked as Ex Zonal chairman, Rotary foundation district 3050, Ex Vice chairperson, Blood donation and many other committees.
She worked as an assistant governor rotary district 3050 – 2008-09 and received outstanding assistant governor award and major donor level 2 from Rotary International
Also life member of Kota Blood Society, Rajasthan; Rajya Bharat Scouts and Guides